Ready to redeem your Digital Planner?
Ready to redeem your Digital Planner?
Redemption is for cards purchased at Walmart and Walmart.com only.
Ready to redeem your Fashion Digital Planner?
Ready to redeem your Fashion Digital Planner?
Redemption is for cards purchased at Walmart and Walmart.com only.
A Blue Sky account is required to redeem your digital planner. If you've previously shopped at Bluesky.com, you already have an account. If you have not shopped at Bluesky.com before you will need to create an account. Click GET STARTED below to log in or create your account.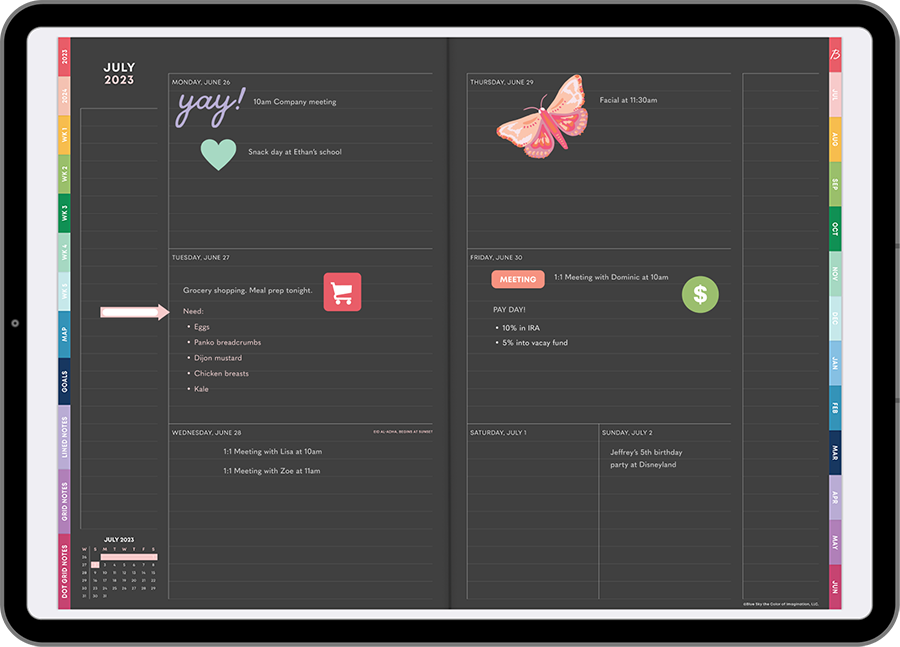 ---
Digital Planner Redemption FAQs
How do I create a Blue Sky account?
Where is my activation code?
The activation code is located on the bottom of the receipt from your Walmart store. It is between 10 and 11 digits long.

The activation code is NOT located on the gift card.

If you purchased the digital planner online, you can find the activation code in the confirmation email from Walmart.com that was sent to you following your purchase. The code is between 10 and 11 digits long.
What are the supported devices for the Blue Sky Digital Planner?
The Blue Sky digital planner can be used on desktop, tablet, and smartphone devices. However, it is optimized for use on a writable tablet. For Mac users, iPads running iPad OS 14.5 or later, or Android tablets.

Why do I need to download GoodNotes?
GoodNotes is an app that enhances your digital planner experience. Do you need to download GoodNotes to use our digital planner? No. However, using GoodNotes simulates the experience of using a paper planner by allowing you to write on and add stickers to your virtual planning pages, as well as turn the pages the same way you would with a paper planner. If you want to know more about GoodNotes, click on our GoodNotes How-To Guide for more information.

GoodNotes is only compatible with Mac iOS devices.

What if I have an Android tablet?
If you have an Android tablet and want to utilize the handwriting feature of our digital planner, click here for a list of our recommended Android-compatible applications.

Will my digital planner card expire? 
Your digital planner card will not expire. However, the digital planner downloadable files are dated for a 12-month calendar year. You will purchase either an academic year digital planner, dated July to the following June, or a regular year digital planner, dated January to December of the same year.  

Your card will only be good for redemption of the files for the date range printed on the card or in the online product description of your e-card.

TERMS AND CONDITIONS:
Redeem your physical card or electronic card to download a Blue Sky Digital Planner for use on any supported device. To use your digital planner card, you must have a valid user account on Bluesky.com, download GoodNotes or an Android-supported tablet notetaking application, and accept the applicable terms of service and user agreements. Review the device and application terms for any additional requirements (e.g., subscriptions, additional fees). The card's full face value is deducted at activation and can only be redeemed for the indicated amount of a Blue Sky Digital Planner. The value associated with this card is not e-money or any other currency, and cannot be refunded, transferred, or withdrawn. Digital planner cards will not be replaced if lost or stolen, destroyed, or used without permission. Use of a digital planner card constitutes acceptance of the acceptable terms and user agreement. Visit Bluesky.com/terms-and-conditions to read the full terms before redeeming.
©2023, Blue Sky the Color of Imagination, their logos, and digital products are the trademarks of their respective owners. Digital planner cards are issued and distributed by Incomm. For help, visit bluesky.com/support.